​
Fixes:
Fixed an issue that caused client crash (Thanks to Rako#7879 for providing all the necessary testing)
Fixed an issue with boss spawning outside the map on summer map.
Fixed Wolfskin Costumes on Ninja Female.
New Duel System
Customize your duels and get rid of the RNG!
Wanna secure a safe duel the way you like it?
You can now get rid of Mounts, Pets, Potions, Critical, Pierce, Poison, Fire, Party and Equipment Swapping during duel!
Note that all the bonuses restrictions will only work on the player you declare duel against.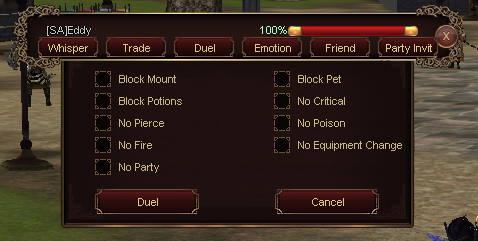 Duel Invitation!
Once you invite a player for a duel, he will now receive a message from you listing all the duel rules you have set.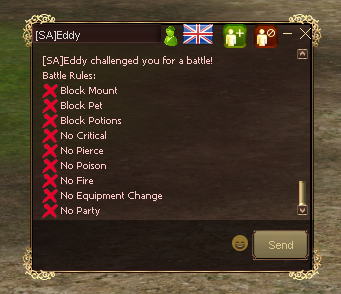 Deny Duel Invitation!
You can now deny an invitation for a duel after being challenged. This way, you can reset the duel rules that were set in that invitation.


Pardon The Winner!
Once you lose a duel, you can either Revenge or Pardon the winner of the duel. In that way, you can also re-change the duel rules on the spot without the need to wait 10 minutes to re-duel with different rules. Note that revenge will continue the duels with the same rules set before.